The Senior Men's and Women's Squads are the most committed and competitive squads in our club, racing in the majority of head races and regattas through the entire year. There is a high level of commitment expected at Squad level with training sessions during the week and two to four outing at the weekend. We have also been known to run rowing camps at Easter and summer as well as mini London-based camps. The squads train together throughout the year and are expected to commit to the season.
The squads change and evolve as we get new members and as older members retire, so every year a pre season meeting is held to better understand the squads objectives and availability to make sure we get the best out of the teams.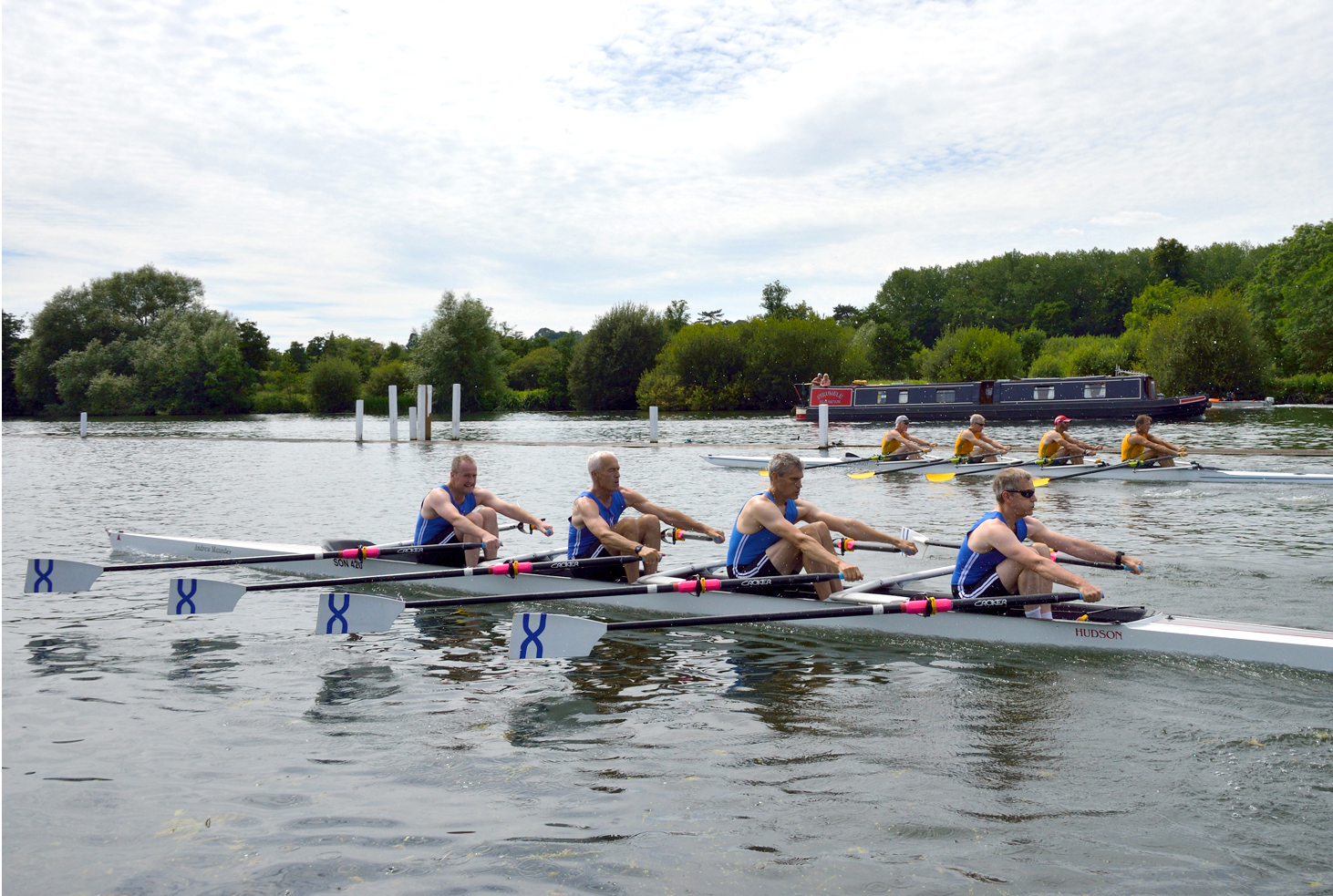 The Masters group is one of our strongest rowing groups, made up of exerienced and well decorated rowers that manage their own training and rowing commitments outside of 'squad life'. Extremely active, our Masters train up to four times a week on week days and up to twice at the weekend. They compete in the majority of local head races and regattas bringing home medals and pots in all boat categories from eights to singles.
Both our Men and Women's Masters crews are friendly, welcoming and love a post-row brunch at the weekend.
Our Development squad is focused on those who want to progress to squad level rowing and compete more seriously. Training two to three times a week and twice at the weekend it is still a strong squad with requires a lot of commitment. Joining the squad requires a base level fitness over 2K onto ergo, and n outing in the boat to establish rowing knowledge and skill level.
We look to provide achievable goals for the development crews, looking at races in the shorter head races and regattas to gain experience and endurance for the season ahead.
Sons of the Thames Rowing Club is fortunate to have a skilled and experienced team of coaching staff that oversees the training, development and race preparation at the club
Head Coach, Roger Ewing, oversees coaching for the club and leads the programme of training for the seniors and masters squads.
Development Coach, Andrew Hale, takes the lead on our Learn to Row programme and focusses the rest of the year on building the skills and experience of our development squad.
Special sculling schools are held during the year under the watchful eye of Drago Zhelev.
Training is different for each squad and is tailored around the needs and requirements of each team to get the most out of their performance. For those competing, it is usually 2 land sessions during the week with two water sessions that are held on the weekend (unless otherwise organised). There are also group weights and circuits sessions throughout the week that all members are welcome to.
Although training plans are made for each team, we often train together and join forces on long pieces and tests to support each other.For a more detailed outline of what to expect from your squad, please chat to the squad captains who will be happy to help.
Rowing camp is one of the perks of training. It's hard work, but there is nothing better to refine and perfect a year's worth of training than three sessions a day with the same focused team on calmer waters than the Tideway. Recent camps have been to Plovdiv, Bulgaria, where they have an international rowing lake and facilities and more importantly ... sunshine. Usually held after Easter, there is plenty of time to prepare for the week of solid rowing.
Coxes are valued members of the club. Everyone realises how important they are not just to racing success but also to safe navigation on the Tideway. If you are an experienced cox you will have the chance to cox men's and women's eights and fours in heads and regattas.
Novice coxes will have the chance to build their Tideway experience, supported by the coaching team. A cox is unique in sport - helmsman, coach, and tactician. The rewards include being part of a team, developing leadership skills and the social side.