'One of the country's oldest rowing clubs'
One of the oldest rowing clubs in England, Sons of the Thames was established in 1886 by professional watermen. The club moved up river from Erith via Lambeth and Putney to its present base in Hammersmith. Even here, it occupies its third location. having been at the West End boathouse from 1953 to 1969, and moving to the St Pauls boathouse in 1976. In 2001 Sons moved to Linden House which it now shares with London Corinthian Sailing Club.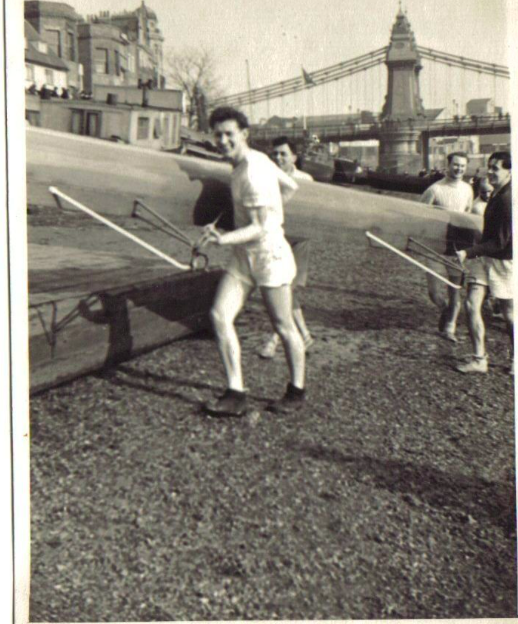 1877 Sons of the Thames at the International Regatta on the tideway racing Tradesmen's Eights with West London Rowing Club (The Standard Sat 28 July)

1880 Article on Sons of the Thames Regatta ' The time has long since gone by when the wherry was the principal hack conveyance of the metropolis, and when such craft plied at the several stairs as regularly as cabs in these days on the stands. Racing between rival watermen was the conducted in the very boats in which they earned their living, and the duties of the latter prepared them for the former.' (The Field 8 May)
1883 Reference to Sons of the Thames at Green Man Berwick St, Oxford St. And prizes given for Sons of Thames regatta.

1899 Gold medal won by J. Cooper of Sons of the Thames in senior fours

1911 Sons of the Thames Rowing and Athletic Club photograph on tankard showing the club members holding a banner illustrating Tower Bridge inscribed 'Amalgamated Society of Watermen and Lightermen.

1900's Early 1900's Sons rowed out of Aylings boathouse Putney. Now Chas Newens confirmed Jim Hopkins/Jerry Sutton

1912 Large photograph showing ' Sons of the Thames Rowing Club 1912 ' xxx photo with some 56 members and many trophies and crossed oars.

1926 Sons boating from Bill Colley's boathouse behind Rutland pub in Hammersmith Young Bill Colley

1927 Sons now at West End Boathouse Hammersmith where young xxxphoto apprentice George Walls starts work eventually to become President of Sons. West End boathouse, now a block of flats, was situated opposite the Rutland pub with a boathouse stretching all along the river front to Furnival, it had a rowing tank and was the home of the West End Amateur Rowing Association which comprised numerous clubs including C.A.V, BASA, Worcester Rowing Club for the blind, Grosvenor Rowing Club for the Blind, Cygnet originated here, London Irish,Whiteleys, Oakleigh ( Railways), Harrodian, Kensington Argyle, London Transport District Line, London Transport Buses CRS, Metropolitan Police, Parkside, Barkers and Pontins. Boats were stored on ground and 1st floors.

1931 Sons win senior eights at Richmond T.R.A.C regatta

1939 – 1945 War with Germany. Colin Price is born in bombing raid however they missed and he goes on to become President of Sons.

1946 Umberto Quaglotti designs the new Sons blades based on the insignia
sleeve decoration of an officer in the merchant navy.

1950 Sons acquires first shell boat named 'Pegasus' with the insignia of the Parachute Regiment fitted with swivels not fixed pins.

Club Championship Shield Donated by H.E.Moyes
Ron Willis wins club championship 1st name recorded on Dewar Shield.
Ron Willis again ( goes on to scull in Henley Diamond Sculls )
E.S. Grey
E.S. Grey
J. Kershaw
J. Cole
R. Carter
C. Tasker

1963 Sons race The Head of the River race starting at 37
and finishing at 19. Crew includes Charles Tasker and Angus Armstrong.
1963 Sons win Serpentine Regatta
Sons win Head of River Fours
1968 Sons win Henley Royal Regatta Wyfold Challenge Cup.
Crew Jerry Sutton, Rodney Carter, Paddy Sharp,Ron Willis Str.
Coach Terry 'the count ' White.

Sons win Henley Royal Regatta 'The Silver Goblets and Nickalls Challenge Cup' Jerry Sutton bow steers and Paddy Sharp str.

1968 West End Boathouse Condemned as unsafe all clubs disperse Many never to be seen again

1976 Sons move into St . Pauls boathouse by 'Dove ' pub Hammersmith
1983 29 wins
1984 45 wins, incl.Beryl Mitchell Petit Final World Lightweight championship sculls.
1985 54 wins (10) national or international champs. xxxx
1986 57 wins gold medal pair, 4 elite 4+
1987 mens Elite 8,4+,2-, 1. 30 wins Womens Open 8 Elite8,4+
Nigel Watson & Ross Smitheman represent England in pair
1988 mens Open 8,4+,2-, 32 wins
1990 mens Open 8,4+,2-, 47 wins w Open 4+,2-,2x, Int. 4+,2-
1991 mens Open 8,4+,2+ 31 wins w ltw 2-, WOMENS HENLEY
1993 mens 8 nc.silver,Gent bronze, 28 wins w FISA 4+, 8 .
1994 mens Open 8,4+,2-, 47 wins w Open 8,4+,2-,World masters 1.
1745 There is a record of 'The anniversary of Court of Sons of the Thames 3256 at the Prince Albert, Royal Hill, Greenwich on 8 July 1871 and reference is made of the order being formed 126 years earlier. Members of Court of Prince of Wales 3334 LVD taking part Walter Robert of Greenwich and Bros. Braybrook (founder member of Foresters Benevolent Fund ) attended. A reference says members were 35 in 1866.

1775 The GREAT REGATTA .The first regatta on the Thames 23 June 1775 A newspaper account says that the river from London Bridge to the Ship at Millbank was covered with pleasure boats and barges and scaffolds were erected on the banks and barges. Twelve boats each with two men raced from Westminster Bridge against the tide to London Bridge and back. The first prize was a new boat, 2nd eight guineas, 3rd three, everyone else one half.

1790 In Bentley's Miscellany 1805-1882 'Merrie England page 606. There is a reference to 'The Sons of the Thames Society meeting to celebrate the annual contest for Doggett's Coat and Badge ( the watermen's annual sculling contest)
1808-1860 Robert Coombes World Champion sculler
Probably the most famous professional oarsman and sculler to compete for Sons of the Thames . He was held in such high esteem that a large tomb was paid for by friends subscription in Brompton Cemetery with four scullers on the corners and an upturned boat on the top.

1840 Sons of the Thames won the first prize of 1000 francs at Le Havre Regatta July 1840. Sons crew were 1. Robert Newell, 2. Robt. Doubledee 3. Wm. Noulton.4 Robt. Coombes sk. Jas. Parish cox.

1841 References to Great Scullers Wagers Coombes who plies from Vauxhall. Doubledee of Lambeth one of the Sons of the Thames crew. (The ERA sept)
Aquatic Oracle record of rowing
1842 Coombes four beat the Claspers, the Tyne champions with whom they battled for many years.
(Illustrated London News , Newcastle Journal)

1844 Reference to Doubledee Sons of the Thames club. ERA 23 June
1847 Robert Doubledee,the celebrated waterman and coxswain of Sons of the Thames Club fell in just missed paddle steamer. (London Standard Also Glasgow Herald 28 May 1847)

1850 Sons of the Thames won Champion Prize, 100 sovs. Open to all the world Grand Thames National Regatta Putney July 1850. (Aquatic Oracle) Crew T. Mackinney,R.Newell, R.Doubledee,R.Coombes sk w.Cox cox
Sons at Henley 1850
Town Challenge Cup
1st: Albion Club, Henley
2nd: Albion Club, Henley
3rd: Sons of the Thames, Wallingford
1854 Royal Thames National Regatta. Sons of the Thames won a 4 oared match for a very hansome cutter, presented by a distinguished patron of river sport. Crew T.Mackinney, J. Mackinney, R. Coombes ,T.Cole,D.Coombes steerer
An 8 oared match against the Claspers was raced but lost. (Morning Chronicle)
Doggetts Coat and Badge Winners from 1855
Terry White, a Sons member from the nineteenth century was apparently a member of both Lea and Sons. A Henley winner, he also won the Doggetts Coat and Badge in 1857. His great grandfather was a Queens Water Boatman and a relative H. White, won the Doggetts Coat and Badge in 1855.
[Source A History of Rowing, 1957 by H. Cleaver.]
Another member, F W Pearce won this coveted honour in 1920 and gained the "Freedom of the RIver" as a result. An extract from his obituary in the West London Observer of May 27th 1955 reads:
"Before he was eligible to enter the sculling race he had to serve an apprenticeship to the Lightermen's and Watermen's Company. During the first world war Mr. Pearce served in France and was mentioned in dispatches. He had been connected with Sons of the Thames rowing club since he was 16. This is a local club which has its boathouse in Lower Mall, Hammersmith."
1860 Robert Coombes dies his tomb is inscribed 'To the memory of Robert Coombes champion sculler of the Thames and Tyne for a period of 7 years. Died 25 February 1860 aged 52 years. Buried under this spot.'

1861 Sons of the Thames Regatta is founded by Herbert Playfield to encourage young rowers and scullers. The course is Putney to Hammersmith. No slides. Sons of the Thames raced a coxed 4. (Morning Chronicle June 11)

1864 At a presentation for the winner of Doggets Coat and Badge at the Regent Hotel 'After a hornpipe by Mdlle.Cerito, the stage was filled by Queens watermen ,winners of previous matches , in their scarlett coats,and members of " The United Sons of the Thames" Rowing club. There followed songs and poems ' The hall being filled with other Sons of the Thames beside the platform 'A song was sung without accompaniment and the singer depended
on the 'Sons of the Thames'. So that's where we get it from.
The ERA 1865 ' United Sons of the Thames Rowing Club, The members of this club principally composed of watermen and landsmen from Westminster and the purlieus thereof rowed a four oared race on Saturday evening
for cups ,rings, and other prizes from Battersea to Lambeth Bridge' (Morning Post)1871 Sons of the Thames entered Champion Fours prize £100 on the Tideway. (Morning Chronicle)